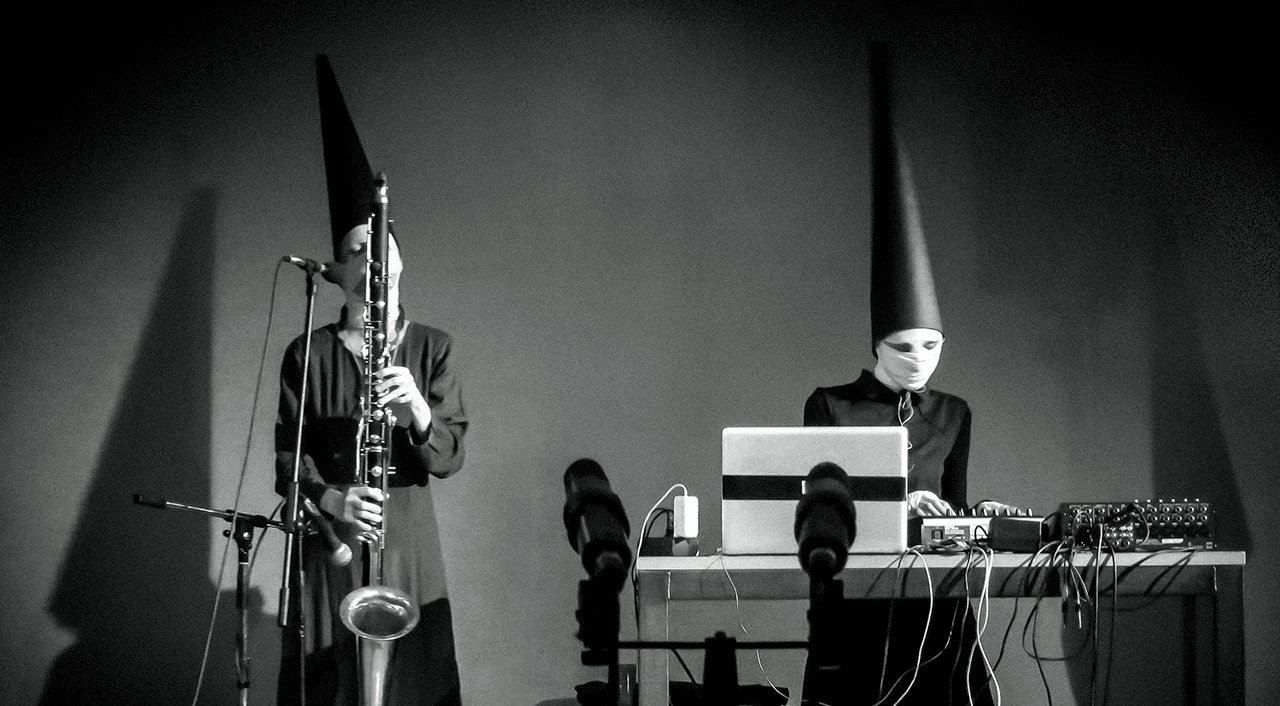 Concert at Noches de los muertos 2012, Echoraum, Vienna
Brigitta Bödenauer and Susanna Gartmayer started their collaboration – Black Burst Sound Generator – in 2012. In their performances, they work with the exact interplay of microphoned contra alto clarinet and electronic sounds. Over the last years, they have developed an unique program that plays musically with elements of Electro, IDM, Field Recordings, Industrial, Drone, Dark Ambient, and the multiphonic possibilities of the contra-alto clarinet. Reduced beats, abstract sounds and slowly developing structures are combined into a precise dramaturgy.

With inquiring minds, precision and persistence, the two musicians Brigitta Bödenauer and Susanna Gartmayer engage in their search for ever new sounds and musical approaches. While Bödenauer works as an experimental film maker and installation artist, Gartmayer studied painting and printmaking, two highly visual approaches to music. Their duo project is characterized by a shared interest in polyrhythmic structures and their pleasure in playing with their stage appearance. In every performance, Gartmayer and Bödenauer take on a new role, one which also demands a new mode of playing. 
Brigitta Bödenauer
Brigitta Bödenauer is an experimental film maker, musician and installation artist. She has got a master's degree in theater, film and media studies from the University of Vienna and teaches on film and visual media. Brigitta Bödenauer organizes music and cultural events and has been active as a DJ in Vienna's noise and experimental scene since the early nineties which was also the starting point for her visual work which is always inspired and strongly connected to music. For the production of several films she collaborated with musicians such as Peter Votava (PURE), Miguel Carvalhais, Ivan Pavlov (CoH), Didi Bruckmayer and Michael Strohmann (Fuckhead).
Susanna Gartmayer
The clarinetist Susanna Gartmayer works in the areas of improvisation, experimental rock music, contemporary music and multimedia sound performance. She has got a master´s degree in fine arts and did a self study in composition and bass clarinet. She is particularly interested in exploring the rich multiphonic potential of low clarinets, a graphic/philosophic play within musical scores and the theory and practice of joint work process in bands and collectives. Susanna Gartmayer is a member of numerous ensembles (broken.heart.collector, The Vegetable Orchestra, möström....) and plays also solo.
Past performances
2017 17 Jahre klingt.org, Brut, Vienna
2016 ORF Musikprotokoll, Dom im Berg, Graz
2014 Dunkle Zeiten 2014: Zwischenkörper / off Theater, Vienna
2013 VELAK Gala # 79 / Brut, Konzerthaus, Vienna
2012 Noches de los muertos / Echoraum, Vienna
2012 Der blöde 3. Mittwoch / Rhiz, Vienna
Radio feature
Ö1 Zeit-Ton 20/10/2016 - 23:08, 51:40 min